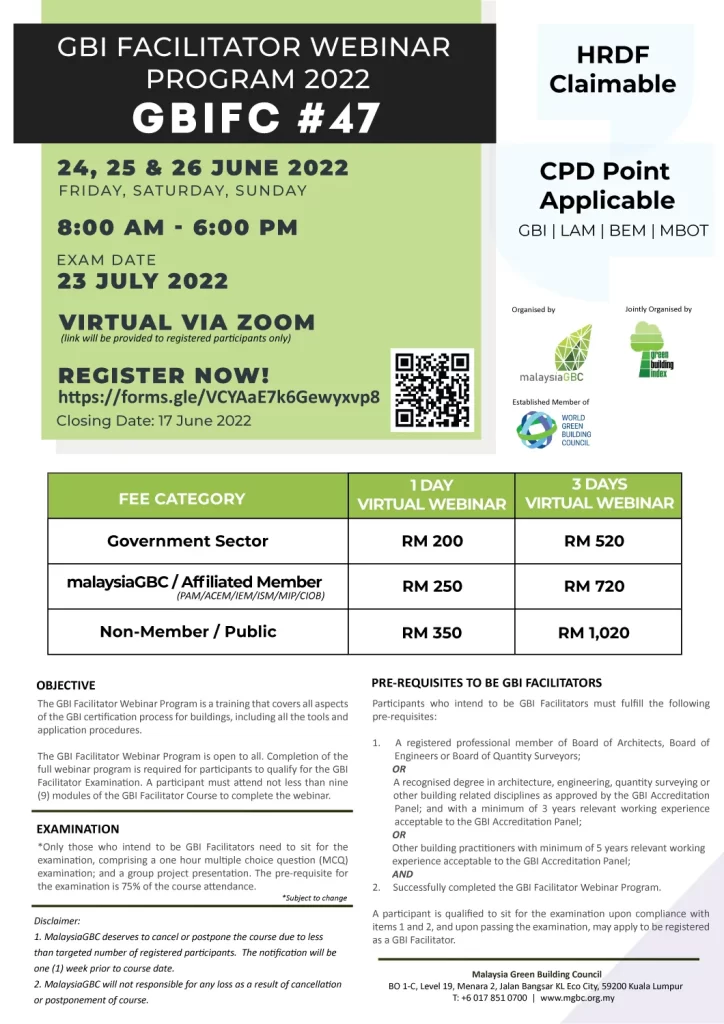 GBI FACILITATOR WEBINAR PROGRAM 2022 – GBIFC #47 – 24, 25 & 26 JUNE 2022 – Virtual via ZOOM
Date: 24 June 2022, Friday
25 June 2022, Saturday
26 June 2022, Sunday
Exam Date: 23 July 2022 (Saturday)
Time: 8:00 am to 6:00 pm
Platform: Online via ZOOM
Fees: One-Day Virtual Webinar (inclusive 6% SST)
RM 200 : Government Sector/Local Council
RM 250 : PAM /ACEM /MGBC /IEM /ISM /MIP/CIOB individual member
RM 350 : Non-member
Three-Day Virtual Webinar + Examination (inclusive 6% SST)
RM 520 : Government Sector/Local Council
RM 720 : PAM /ACEM /MGBC /IEM /ISM /MIP/CIOB individual member
RM1,020 : Non-member
Description:
The GBI Facilitator Course is a 3-day training course that covers all aspects of the GBI certification process for buildings, including all the tools and application procedures.
The GBI Facilitator Course is open to all. Completion of the full course is required for participants to qualify for the GBI Facilitator Examination. A participant must attend not less than nine modules of the GBI Facilitator Course to complete the course.
Disclaimer:
MalaysiaGBC deserves to cancel or postpone the course due to less than the targeted number of registered participants.
The notification will be one (1) week prior to the course date.
MalaysiaGBC will not be responsible for any loss as a result of cancellation or postponement of course.
Please complete the online registration form here: https://forms.gle/VCYAaE7k6Gewyxvp8
Closing Date: 17 June 2022, Friday.
For further inquiries, please email Ms. Siti Asma at cpd@mgbc.org.my.
An e-confirmation containing details of the payment method will be emailed to you after your application is approved and confirmed.